The Way Begins With... Opportunities for All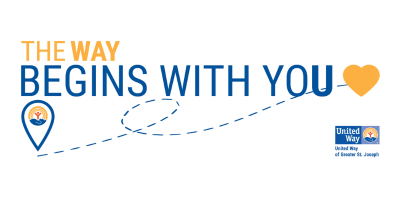 According to the Centers for Disease Control and Prevention, disability affects approximately 61 million, or more than 1 in 4 people in the United States. 
Through early interventions, therapy, adaptive technology, supported employment, routine activities, family support and opportunities, an individual with a disability can thrive in our community.
Donors to United Way of Greater St. Joseph are supporting programs and are providing opportunities for all. Programs like those above allow individuals to stay physically and mentally active, learn new skills, develop healthy relationships and thrive.
The future of our community and each individual can be positively impacted by the paths of opportunity we create today, when we give to United Way.
United Way Partner Agencies & Programs Creating The WAY for…Opportunities for All
Community Missions Corporation
Provides Permanent Supportive Housing for men with a disability and experiencing chronic homelessness. In addition, case managers help residents break barriers to stability and coordinate services.
Family Guidance Center
Operates a supported employment program to help consumers find and maintain employment.
Specialty Industries
Provides a sheltered workshop with meaningful employment, job training, financial betterment, community involvement and advocacy for persons with a disability.
UCP of Northwest Missouri
Children's Programs 




Pediatric, physical, occupational and speech therapy.

Integrated preschool for children ages 2-5 including children with and without special needs.

Therapeutic lending program offering therapeutic equipment that can be loaned to families and child care providers.

Community education regarding disability related topics and issues.

Adult Programs with life skills for adults with disabilities such as cooking, sports and using technology as well as community involvement that includes hands-on service projects.

Employment Programs




Employment services match the best possible work environment or training options with individuals' interests and abilities, utilizing a discovery process and job coaches.

Summer Work Experience gives area high school students with disabilities entering their senior year an opportunity to experience their first job.

All Students Achieve (ASA) is a collaborative program held at Mosaic Life Care designed to improve employment outcomes for high school seniors through classroom activities and an unpaid internship for students.
Sources: Centers for Disease Control and Prevention - Disability Inclusion - CDC.gov
Donors, volunteers, agencies and initiatives combine to create a network of caring.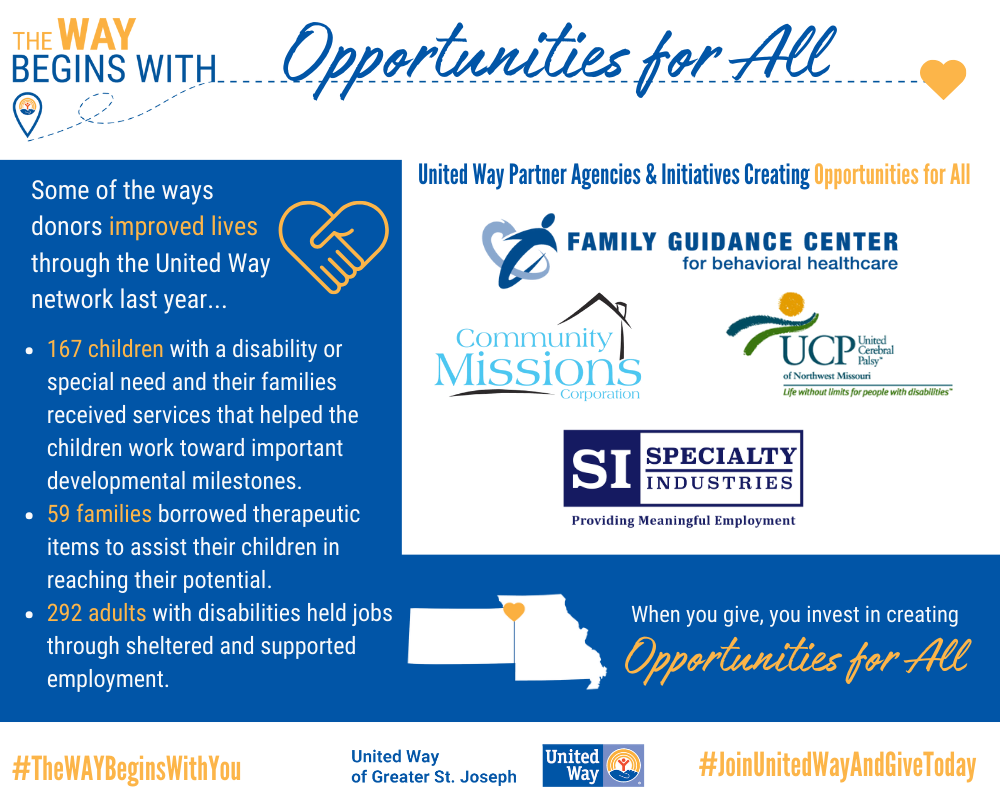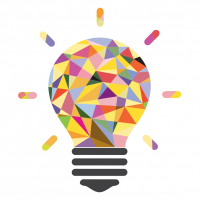 United Way & Imagine St. Joseph 2040
United Way of Greater St. Joseph and the St. Joseph Chamber of Commerce engaged more than 1,000 residents in 2018 to draft a plan for the future of St. Joseph which is known today as Imagine St. Joseph 2040. The plan notes that our greatest return on investment comes from investing in our people. The plan calls for us to be a community where "everyone belongs" and by ensuring individuals of all abilities have access to help, hope and innovative programs. The United Way network is aligned with Imagine St. Joseph 2040 and working to create opportunities for all to reach their potential. 
Funds raised during the 2023 Campaign will support United Way Partner Agencies and Initiatives that provide resources and services to people in Northwest Missouri and Northeast Kansas in 2024.
United Way of Greater St. Joseph is a non-profit agency that improves lives in the areas of education, health and financial stability by harnessing the caring power of community. United Way supports 17 local Partner Agencies and operates seven Initiatives. You can LIVE UNITED by giving, advocating and volunteering. To learn more, visit stjosephunitedway.org and follow @UnitedWayStJoe on Facebook, Instagram, Twitter, LinkedIn, and YouTube.